10 Past Champions to Compete in Senior Amateur
OMAHA (May 29, 2019) -The field is set for the 21st Nebraska Senior Amateur Championship at Wilderness Ridge Golf Club in Lincoln, June 3-4, and a full field of 78 players will compete, including a record 10 past champions.
The stacked field includes those 10 former winners, who together hold 14 of the 20 trophies handed out in the Senior Amateur's history. They are led by the defending champion John Sajevic of Fremont, who rolled to his record third title last year at ArborLinks in Nebraska City, setting a few more records on the way. His final round 66 (-6) set the championship scoring record, and led to a nine-stroke victory, which shattered the record for winning margin, which was previously five strokes.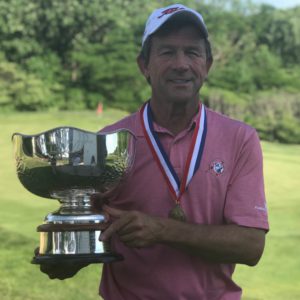 A couple two-time champions are also in the field, in Steve Samuelson of Waterloo (2012 & 2013) and Mike Krumland of Columbus (2006 & 2014). Samuelson is trying to match his fellow Fremont Golf Club member Sajevic with a third title, while Krumland is looking to add his record seventh NGA senior title. Krumland already owns four Nebraska Senior Match Play trophies to go along with his two Senior Amateur wins.
Other past champions in the field include Carl Johnson of Omaha (2017), Jay Muller of Bennington (2015), David Clouse of Friend (2010), William Lawson of Omaha (2009), John Haney of Lincoln (2005), Tom Olson of Omaha (2003) and Gary Bowen of Omaha (2001).
Outside of those 10, the field also includes two former Nebraska Senior Match Play Champions and three others who have won NGA championships. The reigning Senior Match Play Champion Matt Haynes of Papillion and the 2013 champion Chris Mangan of Omaha will be players to watch. Also, the 1984 Nebraska Match Play Champion Scott Howerter of Lincoln, the 1995 and 2001 Nebraska Match Play Champion Pete Godwin of Omaha and the 2000 Nebraska Mid-Amateur Champion Skip Gist of Omaha are in the field.
The championship features 36-holes of stroke play competition over two days, June 3-4, and will be played at Wilderness Ridge for the first time. The par-71 layout will measure 6,719 yards for the Championship Division, with age divisional and net competition also included. Play begins Monday with starting times off Nos. 1 and 10 from 8 a.m. - 10 a.m. First Round pairings are now available on the championship website at the button below.
Nebraska Senior Amateur Championship
About the NGA
The Nebraska Golf Association, founded in 1966, is comprised of all members of public and private clubs and/or municipal or regional golf associations which utilize an approved handicap service recognized by the USGA and provided by the NGA. Our mission is to uphold and promote the game of golf and its values to all golfers in Nebraska. Among the duties of the Association include governance of member clubs and service as their handicapping and course rating authority, conduct of state golf championships, local USGA qualifying & other notable competitions, promotion of junior golf, presentation of worthwhile educational programs and support of allied golf organizations in Nebraska. The Nebraska Golf Association is an Allied Golf Association of the USGA and carries out core services including Handicap Administration and Oversight, Course Rating, Rules of Golf and Rules of Amateur Status, Tournaments and USGA Championship Qualifiers and USGA Initiatives and Community Programs.