Badura, Karmazin Earn Top Seeds, Advance at Nebraska Women's Match Play
FREMONT (July 15, 2019) – The 96th Nebraska Women's Match Play Championship kicked off on Monday, with Stroke Play Qualifying and the first round of matches completed at Fremont Golf Club.
Aurora's Danica Badura and Omaha's Emily Karmazin earned medalist honors during the morning qualifying round, both shooting rounds of 74 (+3). Badura, who finished runner-up at the 2019 Nebraska Women's Amateur, made two birdies and five bogeys during her round. Karmazin, who will be just a sophomore at Elkhorn High School this fall, had a wild ride, making two birdies, an eagle, five bogeys and a double-bogey. Badura was awarded the No. 1 seed, and Karmazin the No. 2 seed by a random draw.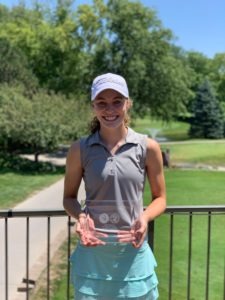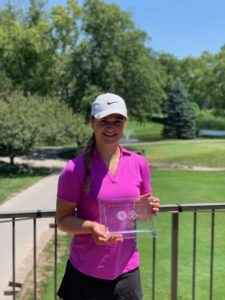 Badura cruised to win her first match, which followed in the afternoon, defeating Adalia Maiyo of Lincoln, 8 and 7. Maiyo earned the No. 16 seed after a playoff with Norfolk's Allison Temple. Both players shot 85 (+14), and Maiyo made par on the first playoff hole to advance to the bracket. She ran into a buzz-saw in the Round of 16, as Badura won the first three holes, and then closed out the match in just 12 holes after winning five more straight. Karmazin squared up against Emily Krzyzanowski of Scottsbluff and also advanced to the quarterfinals, winning 2 and 1.
Four NGA junior champions also advanced to the quarterfinals, including the 2019 Nebraska Girls' Match Play Champion Lauren Thiele of Wahoo. Thiele is the No. 7 seed after a qualifying round of 79 (+7), and she defeated seven-time champion Susan Marchese of Omaha in the Round of 16. Marchese had already won her sixth title nearly a decade before Thiele was born, but the two battled almost all the way to the end. Marchese kept her opponent within reach for most of the match, until Thiele birdied the 14th and 15th holes of the match to push her lead to 3 up, before eventually closing out the match 2 and 1. Thiele will face the No. 2 seeded Karmazin in the quarterfinals.
Two-time Nebraska Girls' Match Play Champion Megan Whittaker of Elkhorn defeated Wahoo's Lindsey Thiele, 4 and 3, and she'll face Badura in the quarterfinals. The 2018 Nebraska Girls' Amateur Champion Kate Strickland of Lincoln survived in 19 holes against her Lincoln Southwest teammate Neely Adler of Lincoln. She'll take on Kristin Goertz of Omaha, who also won in 19 holes over Lincoln's Nicole Kolbas. Ricki Hickstein of Chadron, the 2017 Nebraska Girls' Amateur Champion, took down the defending champion, Nicolle Barmettler of Elkhorn, 2 and 1. She'll face Brandi Lemek of Doniphan, the 2018 NWAGA Player of the Year, who defeated Omaha's Kaitlyn Hanna in 21 holes, the longest match of the day.
In the Senior Gross Division, former Husker women's golf coach Robin Krapfl of Lincoln and Debbie Wilbeck of Omaha tied for medalist honors with rounds of 81 (+8). Krapfl is the No. 1 seed and Wilbeck the No. 2 seed, and both players advanced to the semifinals. Krapfl will play Anne Robertson of Columbus, and Wilbeck takes on Maggie Peters of Fremont in the semifinals.
There is also three flights competing in the Net Division, which started play today, and a full day of matches is ahead on Tuesday.
Full results and more are available on the championship website at the button below.
Nebraska Women's Match Play Championship
About the NGA
The Nebraska Golf Association, founded in 1966, is comprised of all members of public and private clubs and/or municipal or regional golf associations which utilize an approved handicap service recognized by the USGA and provided by the NGA. Our mission is to uphold and promote the game of golf and its values to all golfers in Nebraska. Among the duties of the Association include governance of member clubs and service as their handicapping and course rating authority, conduct of state golf championships, local USGA qualifying & other notable competitions, promotion of junior golf, presentation of worthwhile educational programs and support of allied golf organizations in Nebraska. The Nebraska Golf Association is an Allied Golf Association of the USGA and carries out core services including Handicap Administration and Oversight, Course Rating, Rules of Golf and Rules of Amateur Status, Tournaments and USGA Championship Qualifiers and USGA Initiatives and Community Programs.
About NWAGA
The Nebraska Women's Amateur Golf Association, founded in 1973, is an organization of golf clubs and individuals governed by amateur women golfers and formed for the purpose of promoting and conserving the best interests and true spirit of the game of golf for all women in the State of Nebraska. As NWAGA members, your participation and support is integral to NWAGA's success and will continue to enliven our efforts.