Brueggemanns and Minzel/Moore Tied for Lead
Round One Conducted Saturday at The Players Club
OMAHA (April 24, 2021) - It was a tough day for scoring on Saturday, as only 13 teams finished under par after the first round of the 20th Nebraska Four-Ball Championship at The Players Club in Omaha.
Jayson Brueggemann of Lincoln and Joel Brueggemann of Beatrice are tied for the lead after 18 holes with Travis Minzel and Jay Moore of Lincoln. The Brueggemann brothers were the first side to post the low score of the day, a 65 (-5). Minzel and Moore followed just a few minutes later with the same score, and they lead the field by two strokes.
The Brueggemanns each made three birdies during the day, teaming up for back-to-back birdies on No. 14 (Joel) and No. 15 (Jayson) to get to 5-under. After they dropped a shot on No. 16, Joel rolled in a closing birdie on the par-5 18th to post the low number. Jayson won the 2010 Nebraska Four-Ball with Omaha's Patrick Duffy.
Minzel and Moore were bogey-free, making five birdies, including four of those on their last nine holes (the front nine). Moore birdied Nos. 1, 5 and 8, before Minzel found the par-5 ninth green in two, and two-putted for a finishing birdie. Minzel has previously won two titles, 2011 and 2015, while Moore is looking for his first.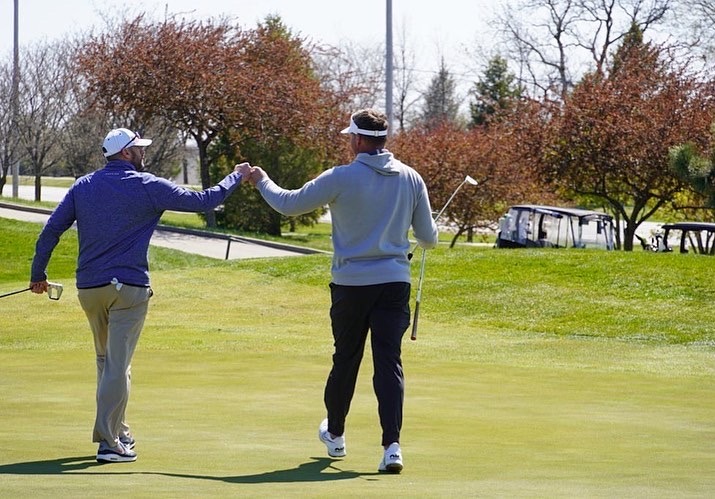 Three teams are tied for third at 67 (-3), two strokes back. That group includes Elkhorn's Alex Farrell, who was part of the 2018 champion team, and his partner Dan Huston of Omaha, who was the runner-up at the 2019 Nebraska Match Play Championship at The Players Club. Omaha's Cole Grandfield and Ryan Turek and Omaha's Dylan McCabe and Matthew Quandt are also tied for third at 3-under.
There's a logjam at 68 (-2), with five teams tied for sixth. Those teams include Elkhorn's Chris Green, who won in 2018 with Farrell, and Colson Simmons, Papillion's Aaron Stockton and Beatrice's Jon Deines, Omaha's Daniel McKernan and Bennington's Johnny Spellerberg, and Omaha's Rob Bartness and Matt Carsey.
Only three other sides were able to get into red figures. Michael Wilhelm of Omaha and Danny Woodhead of Elkhorn are headed to play in the U.S. Amateur Four-Ball next month, and they finished with a round of 69 (-1). Also in at that number is Omaha's Andy Sajevic and Fremont's John Sajevic, along with Grand Island's Glenn Bills and Gretna's Michael Croker.
Sunday's final round begins with starting times off Nos. 1 and 10 from 9 - 11 a.m. Pairings and full first round results are available on the championship website below.
Nebraska Four-Ball Championship
About the NGA
The Nebraska Golf Association, founded in 1966, is comprised of all members of public and private clubs and/or municipal or regional golf associations which utilize an approved handicap service recognized by the USGA and provided by the NGA. Our mission is to uphold and promote the game of golf and its values to all golfers in Nebraska. Among the duties of the Association include governance of member clubs and service as their handicapping and course rating authority, conduct of state golf championships, local USGA qualifying & other notable competitions, promotion of junior golf, presentation of worthwhile educational programs and support of allied golf organizations in Nebraska. The Nebraska Golf Association is an Allied Golf Association of the USGA and carries out core services including Handicap Administration and Oversight, Course Rating, Rules of Golf and Rules of Amateur Status, Tournaments and USGA Championship Qualifiers and USGA Initiatives and Community Programs.