Kearney Country Club Wins Interclub Again
GOTHENBURG (September 16, 2019) – Kearney Country Club did it again. The club won its fifth title in 10 years, taking the 2019 NGA Interclub Championship at Wild Horse Golf Club in Gothenburg on Monday.
Kearney CC dominated the day to add the 2019 title to its wins in 2010, 2013, 2015 and 2017. It was a 21-3 victory over Oak Hills Country Club from Omaha in the Final, as Kearney CC nearly swept both the Singles and Four-Ball matches, winning all but one of each. Oak Hills CC was only able to win one Singles match, and tie one Four-Ball match.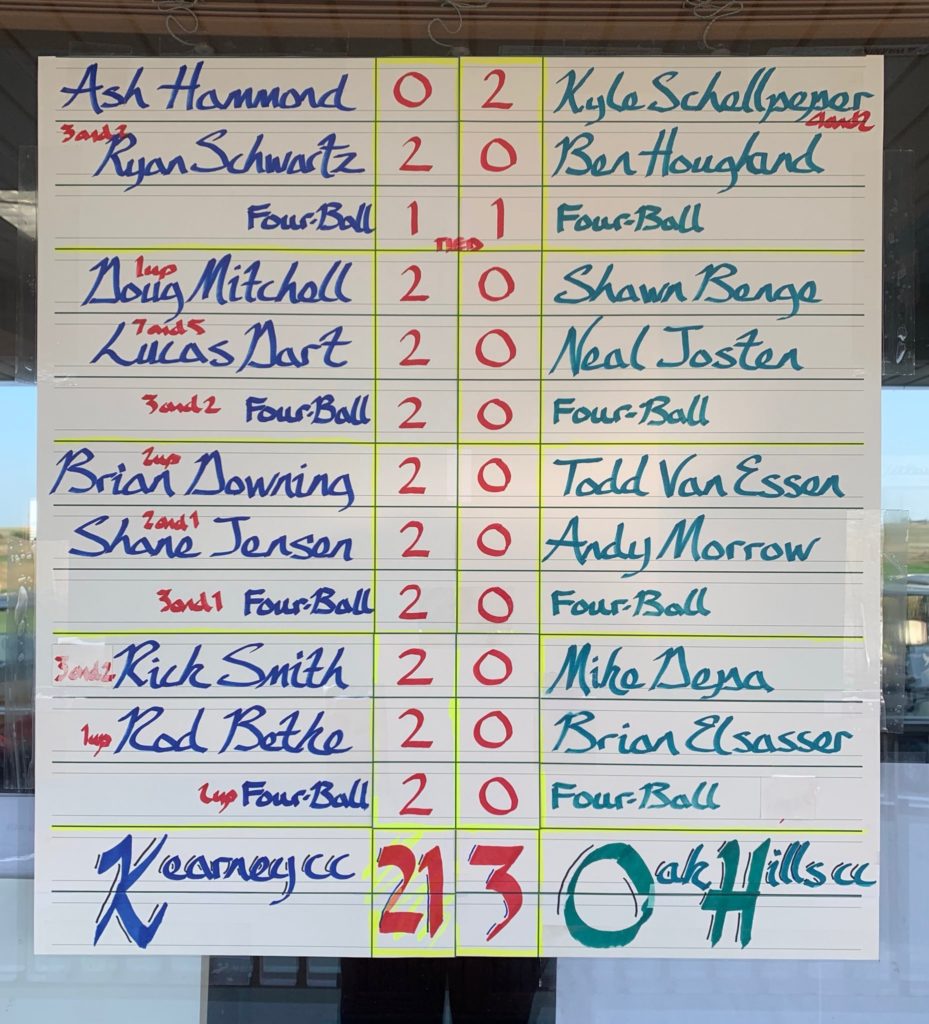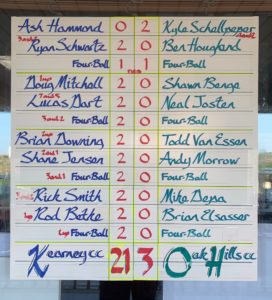 Doug Mitchell, Lucas Dart, Brian Downing, Shane Jensen, Rick Smith and Rod Betke all were able to win both their Singles and Four-Ball matches in the Final. Ryan Schwartz also picked up a win in his Singles match, and tied his Four-Ball match with partner Ash Hammond, the head professional at Kearney CC.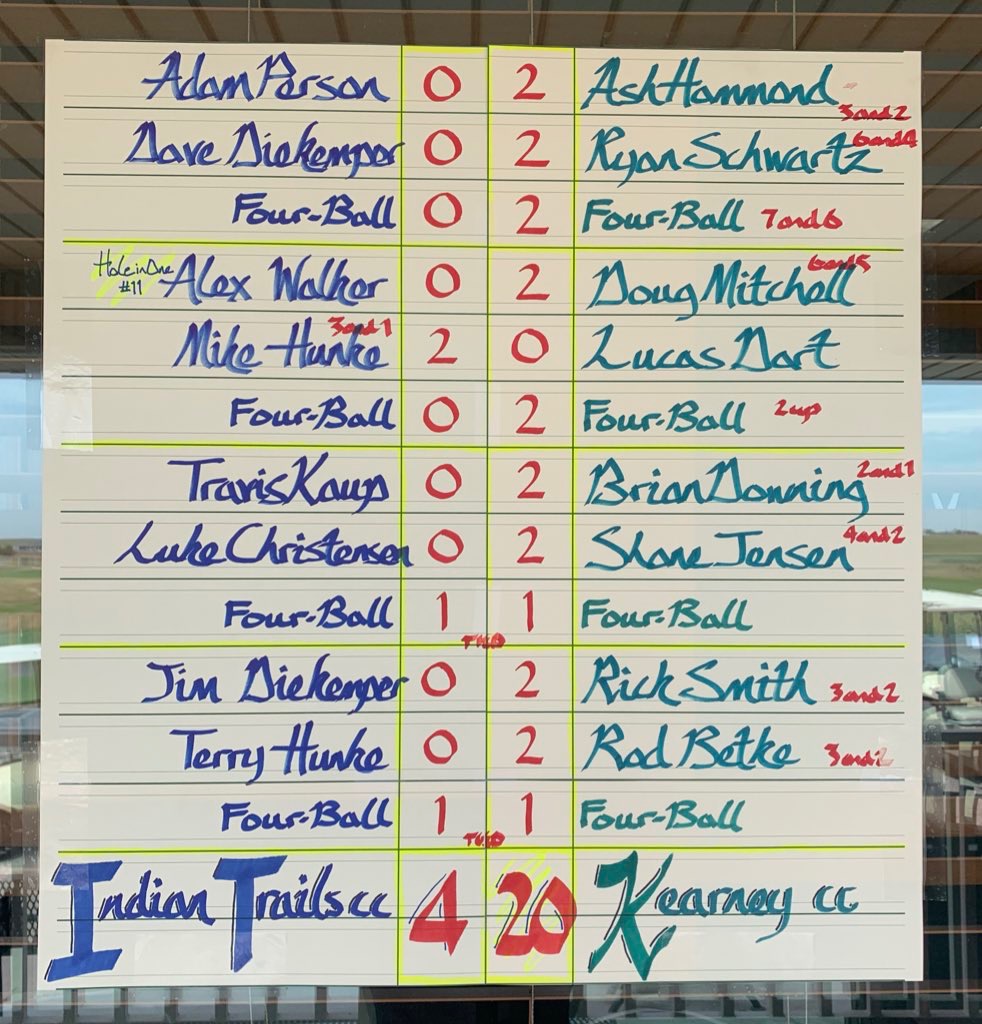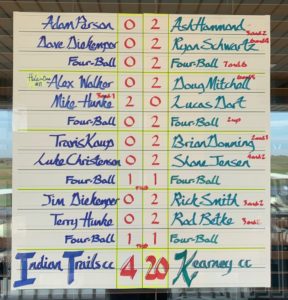 It was much of the same in the morning Semifinals, as Kearney CC rolled to a 20-4 win over Indian Trails Country Club from Beemer. Kearney CC again won seven of the eight Singles matches, with Indian Trails CC winning the other, its only win over the semifinal. Kearney CC also won two of the Four-Ball matches, with the other two ending in a tie.
Indian Trails did have the highlight of the day though, as member Alex Walker made a hole-in-one on the par-3 11th hole. Walker used a gap wedge on the 113-yard hole.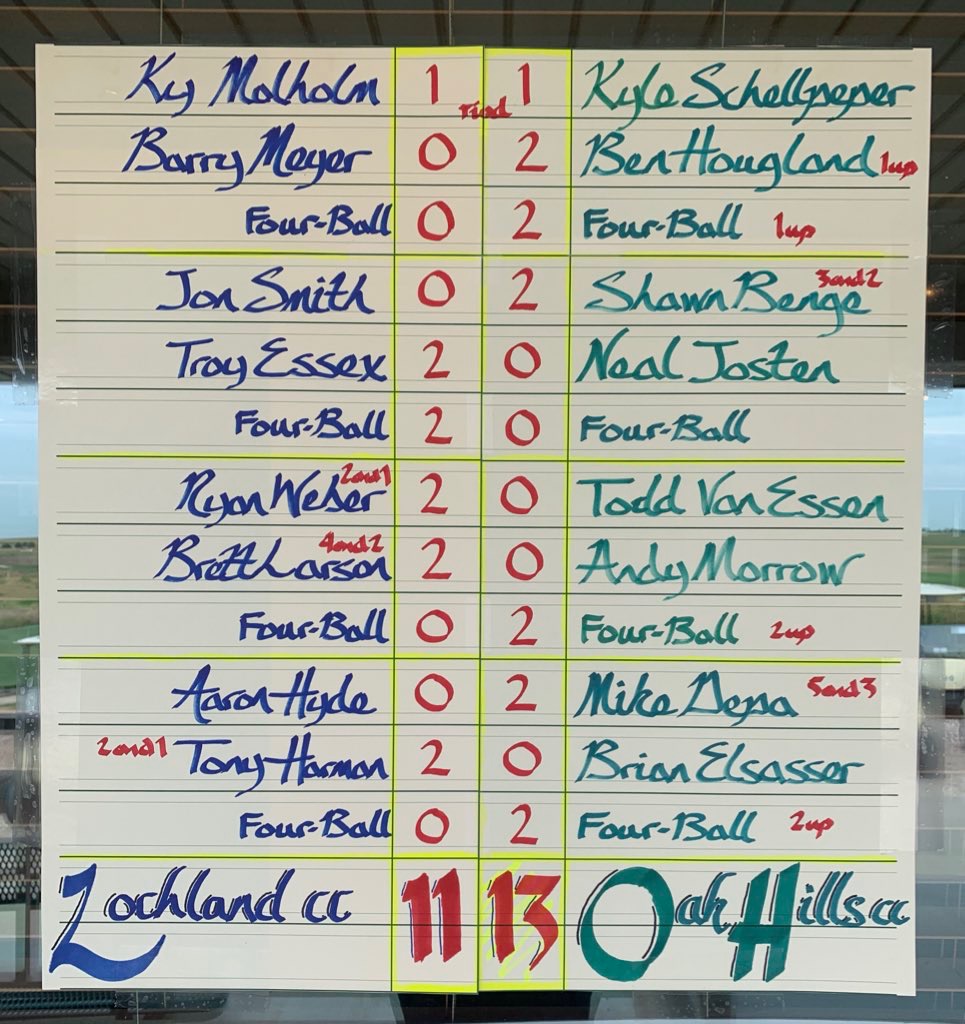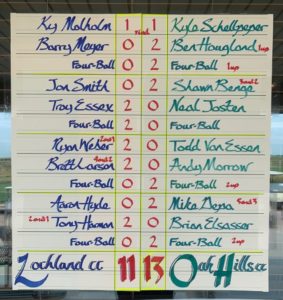 In the other Semifinal, it all came down to the final match, as Oak Hills CC pulled out a 13-11 victory over Lochland Country Club from Hastings. Lochland had the advantage in the Singles matches, winning four and tying another. However, Oak Hills CC pushed for the win in the Four-Ball matches, winning three of four for the decisive points.
For full results and more in the NGA Interclub program, visit the button below.
About the NGA
The Nebraska Golf Association, founded in 1966, is comprised of all members of public and private clubs and/or municipal or regional golf associations which utilize an approved handicap service recognized by the USGA and provided by the NGA. Our mission is to uphold and promote the game of golf and its values to all golfers in Nebraska. Among the duties of the Association include governance of member clubs and service as their handicapping and course rating authority, conduct of state golf championships, local USGA qualifying & other notable competitions, promotion of junior golf, presentation of worthwhile educational programs and support of allied golf organizations in Nebraska. The Nebraska Golf Association is an Allied Golf Association of the USGA and carries out core services including Handicap Administration and Oversight, Course Rating, Rules of Golf and Rules of Amateur Status, Tournaments and USGA Championship Qualifiers and USGA Initiatives and Community Programs.