Lopers, Bruins Close out Victories at Nebraska Intercollegiate
Final Round Conducted Saturday at Awarii Dunes Golf Club
AXTELL (October 7, 2023) - Champions were crowned on Saturday at Awarii Dunes Golf Club in Axtell, after the final round of the 2023 Nebraska Intercollegiate, with the University of Nebraska-Kearney taking the women's title and Bellevue University securing the men's title.
Bellevue picks up its fourth title in the last eight years with the win. The Bruins improved by a stroke in the final round, posting a 301 (+13) to win by 10 strokes with a 603 (+27) total. They also won Nebraska Intercollegiate titles in 2016, 2018 and 2020.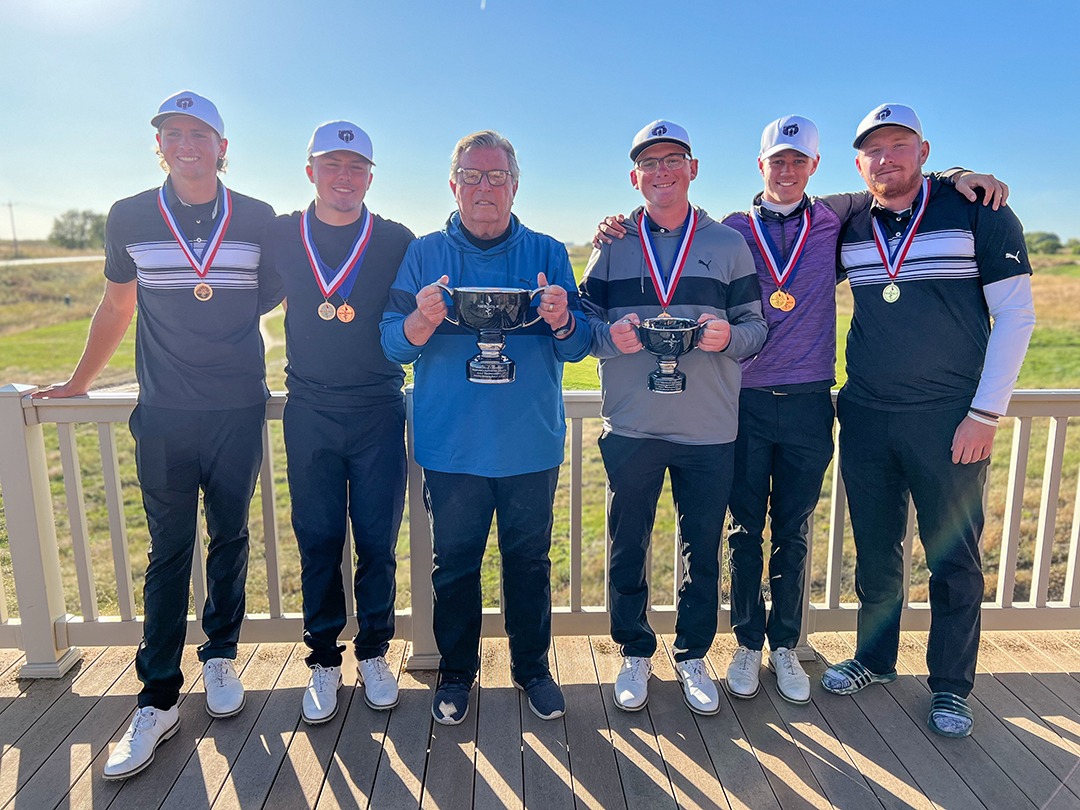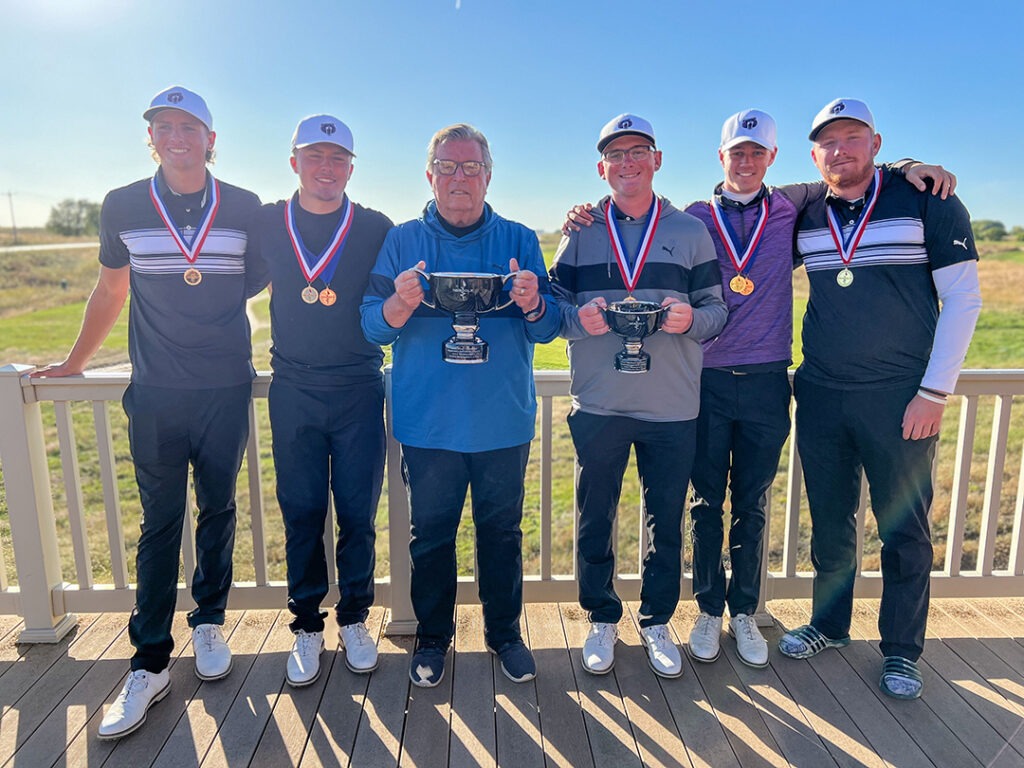 Freshman Dylan Rodgers again led the way, and earned the individual title with his final round 74 (+2) and 144 (E) total. He made six more birdies today for a total of 14 over the two rounds, and won by two strokes.
Two other Bruins earned medals by finishing inside the top 10, with Sam Johnson shooting 75 (+3) to finish sixth with a 149 (+5) total. Hugo Brandt climbed up the leaderboard with his 75 (+3) to tie for 10th at 155 (+11). Also contributing for Bellevue was Totte Uhlan, who finished tied for 16th at 158 (+14) and Cayden Wynne, who was tied for 26th at 161 (+17).
On the women's side, four Lopers finished inside the top 10 to lead UNK to the team title. The Lopers finished tied for the low round of the day with a 322 (+34), and pulled away for a 10-stroke victory with 643 (+67) total.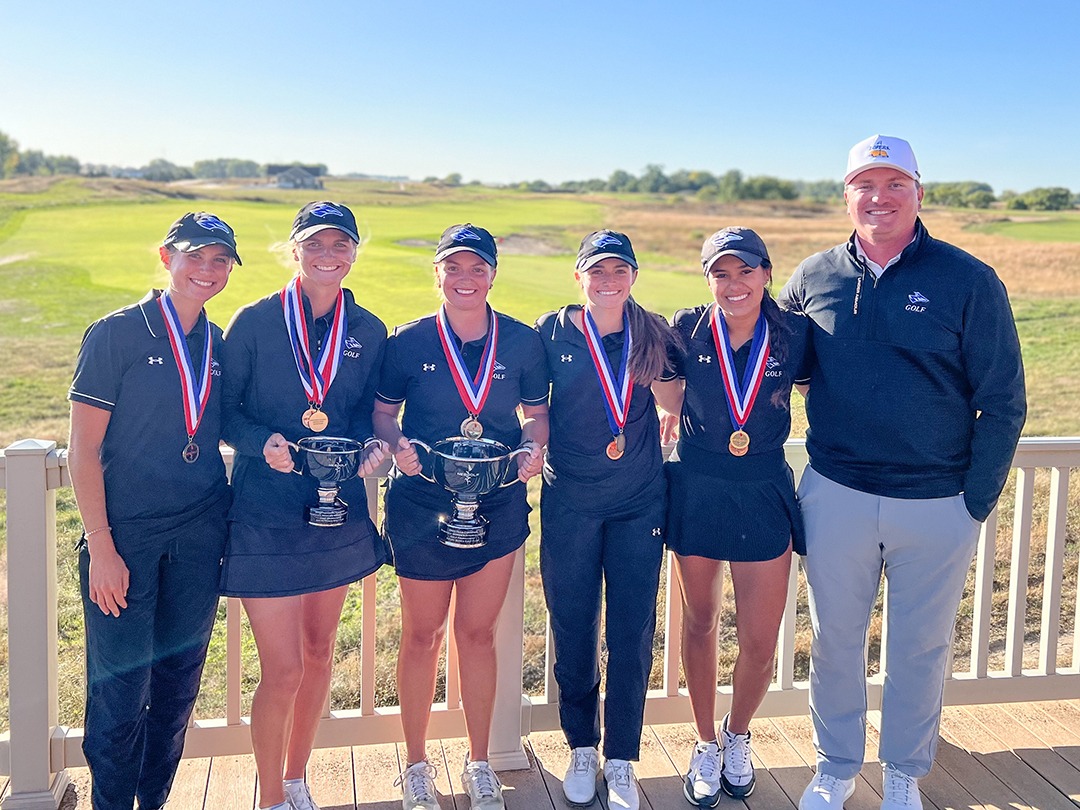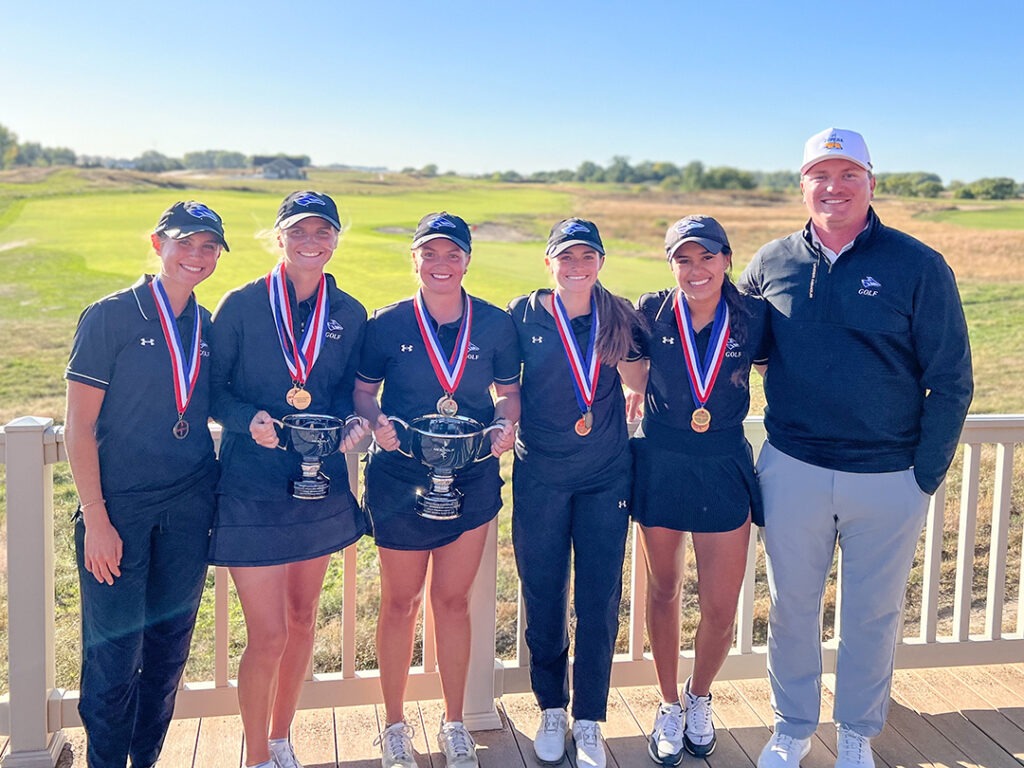 Junior Brooke King also closed out the individual title for the Lopers, following her first round 74 (+2) with a final round 82 (+10) to win by a stroke with a 156 (+12) total. King birdied her final hole, the par-5 ninth, to secure the victory over her teammate, Allison Comer. Comer came charging back with a 75 (+3) to finish runner-up at 157 (+13).
Two more Lopers earned medals, including Juliana Botero, who finished eighth at 164 (+20), following an 85 (+13). Liz Lyons moved into the top 10 with an 81 (+9), which put her in a tie for ninth at 167 (+23). Another Loper, Claire Berquist finished just outside of medal contention, contributing to the team score with an 84 (+12) to tie for 11th at 173 (+29).
Wayne State College finished runner-up at 653 (+77), after winning the first two Nebraska Intercollegiate women's titles. Three Wildcats earned medals, led by Abbigail Brodersen, who finished third, a stroke behind Comer, at 158 (+14). Jazmine Taylor, the 2021 Individual Champion, took fourth at 159 (+15). Saffire Sayre also tied for fifth at 160 (+16), along with Bellevue University's Maria Pinedo, the 2022 Individual Champion.
Kaitlyn Dumler of Doane University placed seventh at 162 (+18), and Chloe Blandinieres of Bellevue University tied for ninth with Lyons at 167 (+23) to round out the top 10.
Southeast Community College finished as the runner-up team on the men's side. The Bobcats made a run during the final round, tying the Bruins at one point, but fell 10 strokes short with a 613 (+37) total. Thomas Gatlin led the team with two-straight rounds of 73 (+1) to tie for runner-up honors at 146 (+2) with Nebraska Wesleyan's Geran Sander. Sander posted the low round of the tournament, a 69 (-3).
Gabe Escalara of Hastings College and Drew D'Ercole of Concordia University tied for fourth at 148 (+4). Luke Strako of Southeast Community College was seventh at 150 (+6), while Midland University's Ethan Blair shot a 72 (E) to finish eighth at 151 (+7). Doane's Ryan Weiss took ninth with a 153 (+9) total, while two other players tied Brandt for 10th at 155 (+11), Joshua Wassmer of Doane and Rupert Hurford of Northeast Community College.
Full results are available on the website below, along with additional information.
About NebGolf
The Nebraska Golf Association (NebGolf), founded in 1966, is comprised of all members of public and private clubs and/or municipal or regional golf associations which utilize an approved handicap service recognized by the USGA and provided by NebGolf. Our mission is to uphold and promote the game of golf and its values to all golfers in Nebraska. Among the duties of the Association include governance of member clubs and service as their handicapping and course rating authority, conduct of state golf championships, local USGA qualifying & other notable competitions, promotion of junior golf, presentation of worthwhile educational programs and support of allied golf organizations in Nebraska. The Nebraska Golf Association is an Allied Golf Association of the USGA and carries out core services including Handicap Administration and Oversight, Course Rating, Rules of Golf and Rules of Amateur Status, Tournaments and USGA Championship Qualifiers and USGA Initiatives and Community Programs.