Sajevic Battles to Win Fourth Senior Amateur Title
LINCOLN (June 4, 2019) - It was a different story, but the same result, as John Sajevic of Fremont battled to win the 21st Nebraska Senior Amateur Championship at Wilderness Ridge Golf Club in Lincoln on Tuesday.
Last year, Sajevic caught fire and dominated the field to win by nine strokes. This year, he saw his final round lead disappear and had to fight back to claim his record fourth title. It also gave him a record 10th NGA men's title, breaking a tie with Knox Jones of Lincoln and Alex Schaake of Omaha, who both have nine. Sajevic shot a final round 74 (+3) to finish with a 146 (+4) total and win by one stroke.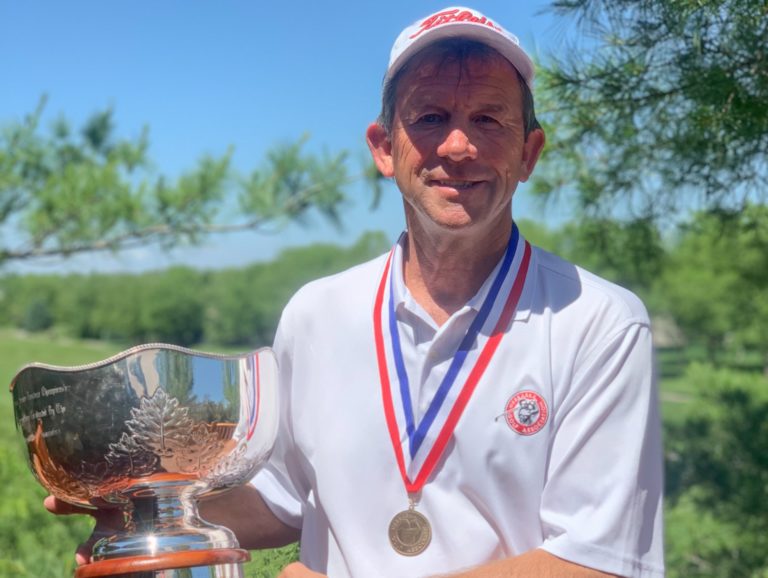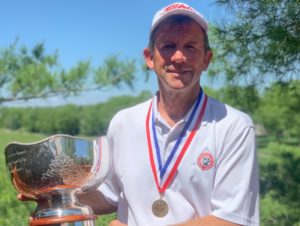 Sajevic entered the final round with a three stroke lead after a first round 72 (+1) in difficult conditions. That quickly disappeared though, as he bogeyed the first hole and Norfolk's Todd Pospisil birdied Nos. 3 and 4. Sajevic answered with a birdie of his own on the 164-yard, par-3 fourth hole, nearly holing his tee shot and tapping in from less than a foot away. However, a bogey on No. 5 for Sajevic tied them for the lead, and a Pospisil birdie on the par-5 sixth put him into the lead.
Pospisil made the turn in 33 (-3), still holding the lead. He had a rough start to the back nine though, making double-bogey on No. 10, followed by bogeys on the next two holes. He bounced back with a birdie on No. 13, but two more bogeys followed. Pospisil had a chance down the stretch, but a back-nine 42 (+7) and another 75 (+4), left him four strokes out at 150 (+8).
Then it was Omaha's Jay Muller, the 2015 champion, who mounted a challenge. Sajevic made nine straight pars at one point, while Muller kept an even-par round going through 14 holes. Both players made bogey on Nos. 15 and 16, but Muller stuck his approach to about five feet on No. 17 and rolled in the birdie to cut Sajevic's lead to just one stroke.
Both players hit good drives on the closing hole, a difficult par-4, but Muller's second shot finished short on the front of the green, while Sajevic's rolled just off the back onto the fringe. Muller rolled his past the hole and had about five feet left for par, and knocked it down. Sajevic left his birdie attempt short, and had four feet for his fourth title. He buried it to add the 2019 title to his 2008, 2016 and 2018 wins.
Muller finished runner-up with a 147 (+5) total, after a final round 72 (+1), matching Sajevic for the low round of the championship. Pospisil finished in a three-way tie for third with Lincoln's Bill Spangler and Omaha's Kirby Smith. Those three also tied for first in the 50-57 Age Division.
Brady Bailey of Lincoln and two-time champion Steve Samuelson of Waterloo finished tied for sixth at 152 (+10). Rounding out the top 10 was the 2018 Nebraska Senior Match Play Champion Matt Haynes of Papillion, Ed Wyatt of Lincoln and John Fecht of Lincoln, who all tied for eighth at 153 (+11).
Sajevic also won the 58-64 Age Division for the fourth time in five years, while Omaha's Steve Redlin was the 65+ Age Division Winner with a 149 (+7) total.
Visit the championship website below for final results and more. Check us out on Twitter (@NGAgolf) for highlights of the day.
Nebraska Senior Amateur Championship
About the NGA
The Nebraska Golf Association, founded in 1966, is comprised of all members of public and private clubs and/or municipal or regional golf associations which utilize an approved handicap service recognized by the USGA and provided by the NGA. Our mission is to uphold and promote the game of golf and its values to all golfers in Nebraska. Among the duties of the Association include governance of member clubs and service as their handicapping and course rating authority, conduct of state golf championships, local USGA qualifying & other notable competitions, promotion of junior golf, presentation of worthwhile educational programs and support of allied golf organizations in Nebraska. The Nebraska Golf Association is an Allied Golf Association of the USGA and carries out core services including Handicap Administration and Oversight, Course Rating, Rules of Golf and Rules of Amateur Status, Tournaments and USGA Championship Qualifiers and USGA Initiatives and Community Programs.