Csipkes Goes Back-to-Back at Senior Match Play
Semifinals and Finals Conducted Thursday at The Pines Country Club
VALLEY (September 28, 2023) - Brian Csipkes of Gretna hoisted another trophy on Thursday at The Pines Country Club in Valley, winning the 13th Nebraska Senior Match Play Championship for the second-straight year.
Csipkes defeated Papillion's Eric Murphy in the Final, 5 and 3, to earn his second title in three tries at the Senior Match Play. He is just the second player to win back-to-back titles at the championship, joining Mike Krumland of Columbus, who won two of his four titles in consecutive years in 2014 and 2015.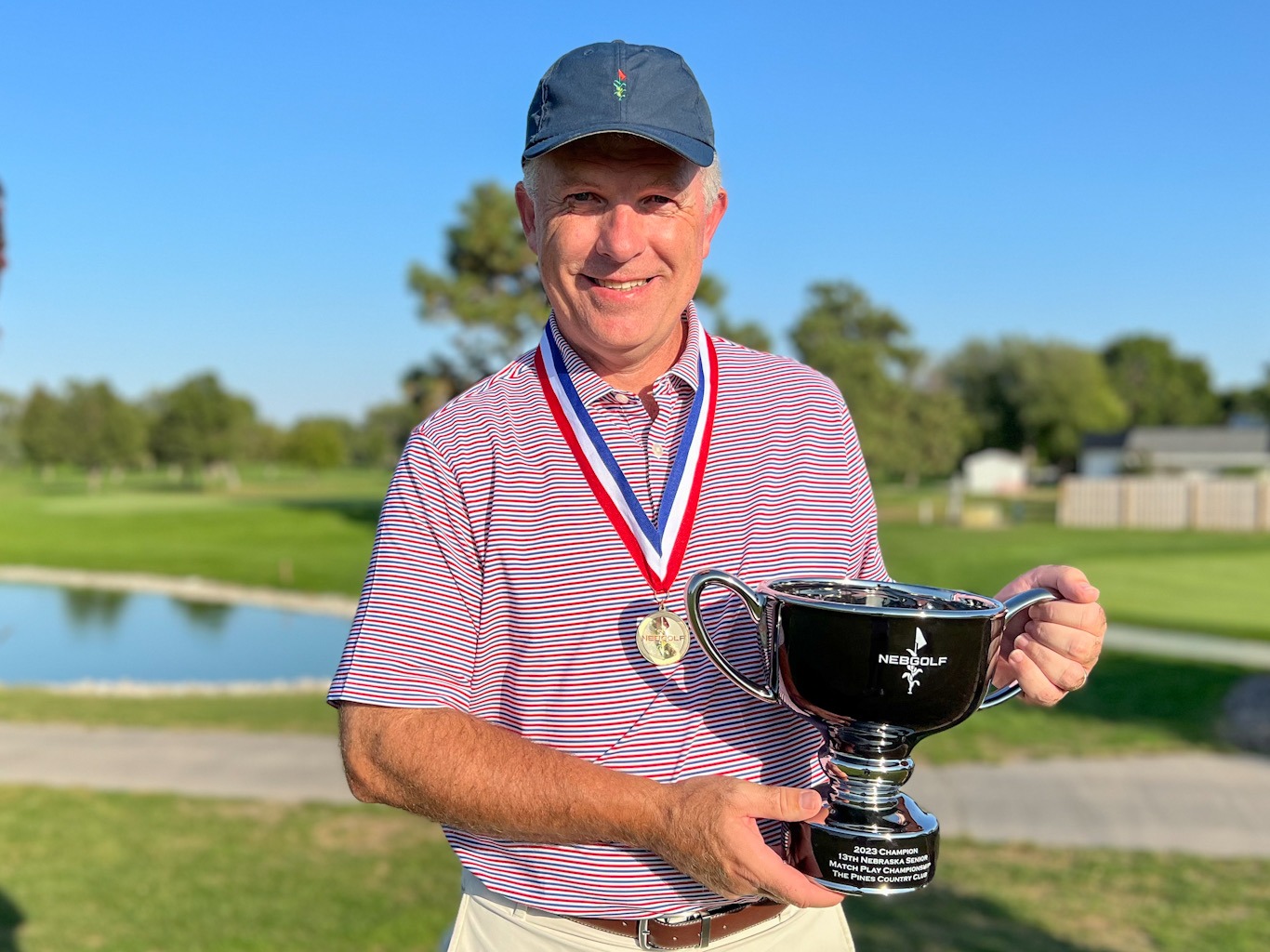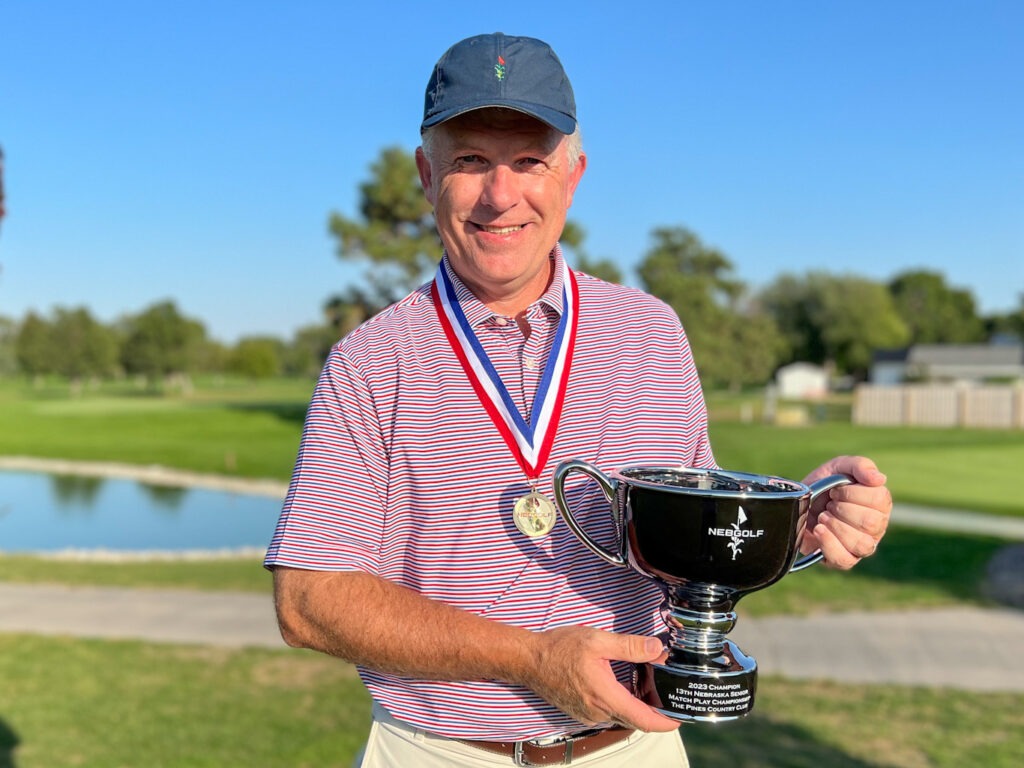 Although he faced some tough competition, Csipkes never had to stress over the closing two holes, as he did not need to play Nos. 17 or 18 in any of his matches. On Thursday, he didn't need any of the last three holes, closing out both his matches in just 28 holes.
In the Final against Murphy, it was a back-and-forth battle early, as they did not tie any of the first five holes. After trading wins on the first two holes, Csipkes knocked it close on the par-3 third and rolled in a birdie, but Murphy answered with a birdie on the par-5 fourth to tie the match again.
Csipkes would take control from there though, with the wind howling from the south. He won four of the next five holes, with No. 6 being the only tied hole on the front nine in the match. Three-straight wins with par on Nos. 7-9 gave Csipkes a comfortable 4-up lead at the turn.
The lead grew to 5 up after Csipkes won No. 11 with a par, but Murphy won his first hole since the birdie on No. 4, with a par on No. 12. Both player rolled in clutch par putts on the next two holes to keep the match going, and Csipkes went to the par-4 15th 4 up with four holes to play.
After bombing his drive, Csipkes flipped his approach shot to a makeable distance. Murphy found the green as well, but conceded the hole and the match while his ball was still rolling by the hole, knowing he couldn't win the hole and extend the match.
In the Semifinals, Csipkes jumped out to a red-hot start against the No. 1 seed, Matt Haynes of Bellevue. Csipkes rolled in a birdie on No. 1 and then dropped a nearly 50-foot bomb for another birdie on No. 2 to go 2 up. He also won the next three to go 5 up through five holes. After taking a 7-up lead through 10 holes, Haynes finally won his first hole of the match, with a par on No. 11. Csipkes closed out the match on No. 13, 6 and 5, sinking a slick, downhill birdie putt, with Haynes in tight with a birdie chance.
The other Semifinal finished nearly two hours later, with Murphy and Fremont's John Sajevic playing the longest match in championship history. Sajevic, the 2021 Champion, sprang out to a 2 up lead by winning three of the first four holes, but the two would tie the next eight holes.
That's when Murphy made his move, saving par on Nos. 13-15 to win all three holes and take a 1-up lead. Sajevic nearly chipped in on the par-3 17th, and Murphy left his birdie putt on the lip, a roll short of ending the match. However, Sajevic, with new hope, dropped in a clutch birdie putt on the par-5 18th hole to send the match to extra holes.
Murphy had putts to end the match on the first two extra holes (Nos. 10 and 11), but couldn't get them to drop. They went to the 21st hole though, setting a record for the longest championship match at the Nebraska Senior Match Play. A day earlier, Murphy defeated Bennington's Steve Buroker in the seventh occurrence of a 20-hole match. Murphy didn't let it go any further, as he two-putted for par on No. 12, while Sajevic three-putted for bogey, sending Murphy to the Final.
In comparison, Csipkes played just 60 holes in his four matches, while Murphy played a full 72 holes. Murphy was also part of a 9-hole playoff at the 2020 Nebraska Senior Amateur Championship, where he fell to Lincoln's Ed Wyatt, and now has his second runner-up trophy in four seasons.
Flight winners in six other brackets were also decided, including four in the Championship Division. Ed Wyatt of Lincoln won the Astleford Bracket, while Skip Gist of Omaha won the Reynolds Bracket. Bennington's David Baker took the Bliss Bracket, and Omaha's Michael Root won the Parker Bracket. In the Tournament Division, Steve Thomalla of North Platte won the President's Bracket and Sam Kumar of Omaha won the Director's Bracket.
The final brackets are available on the championship website below, along with additional information.
Nebraska Senior Match Play Championship
About NebGolf
The Nebraska Golf Association (NebGolf), founded in 1966, is comprised of all members of public and private clubs and/or municipal or regional golf associations which utilize an approved handicap service recognized by the USGA and provided by NebGolf. Our mission is to uphold and promote the game of golf and its values to all golfers in Nebraska. Among the duties of the Association include governance of member clubs and service as their handicapping and course rating authority, conduct of state golf championships, local USGA qualifying & other notable competitions, promotion of junior golf, presentation of worthwhile educational programs and support of allied golf organizations in Nebraska. The Nebraska Golf Association is an Allied Golf Association of the USGA and carries out core services including Handicap Administration and Oversight, Course Rating, Rules of Golf and Rules of Amateur Status, Tournaments and USGA Championship Qualifiers and USGA Initiatives and Community Programs.