Hanna Wins Girls' Title, Benge and Bryson to Play for Boys' Crown
Second Day of Match Play Conducted Wednesday at Platteview Golf Club
BELLEVUE (June 8, 2022) - Kaitlyn Hanna of Omaha brought home her second NGA trophy today after defeating Omaha's Katie Ruge in the Final of the 60th Nebraska Girl's Match Play Championship, 3 and 2, at Platteview Golf Club in Bellevue.
On the boys' side, Lincoln's Thomas Bryson is set to square off with Omaha's Jackson Benge of Omaha in the 33rd Nebraska Junior Match Play Championship Final.
It was an early start, with matches beginning at 7:30 a.m., however that did not equate to a slow start. Hanna, the 2019 Nebraska Girls' Amateur Champion, was competing right out of the gate, winning two of her first three holes. Emily Krzyzanowski of Scottsbluff won No. 9, but the damage was done, and Hanna would finish off a 5-and-4 win.
Ruge, the 2020 Nebraska Women's Match Play Champion, was 5 up after her first nine holes, and showed no signs of stopping on her way to a 7-and-5 win over No. 1 seed Julia Karmazin of Omaha. 
In the afternoon, Ruge started the Final off with a win on No. 1, but Hanna responded by winning the next two holes, including a chip-in birdie on No. 3.
After nine holes, Hanna still held a two-hole lead, but the Omaha duo were performing an approach clinic. On No. 14, both players made birdie after hitting their tee shots close, with the longest of the two putts rolling in from eight feet. A sharp short game would be the edge Hanna needed to go 3 up on No. 15, and then close out the match on No. 16 to win her first match play title.
Hanna becomes the seventh player to win both NGA girls' titles. She is headed to play at the University of Iowa in the fall.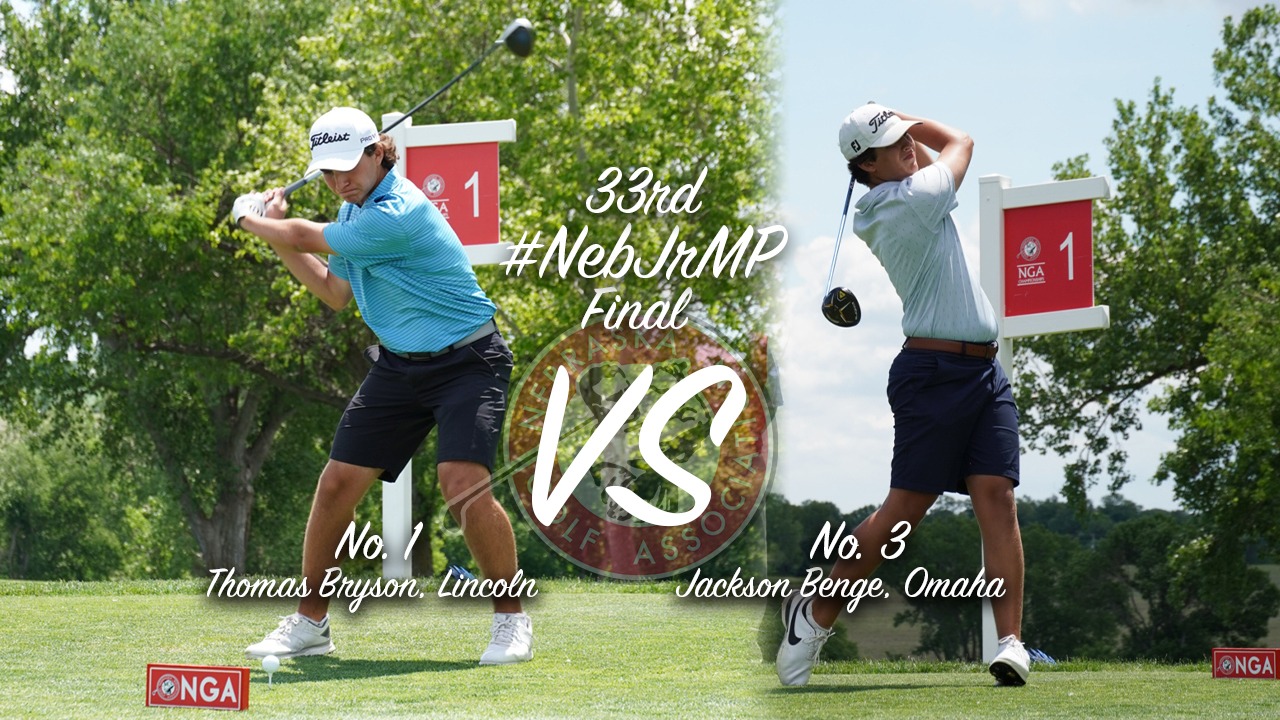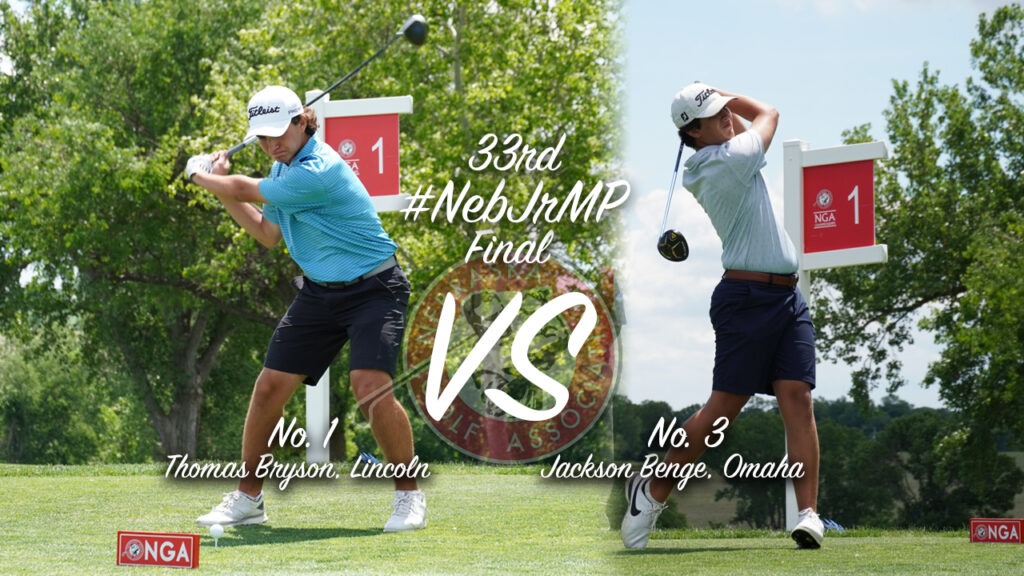 The boys' Quarterfinals featured Bryson defeating Kolby Brown of Omaha, 3 and 2. Then Cole Feddersen of Kearney defeated Will Mullin, 3 and 2, and after trailing by 2 holes at the turn, Andrew Whittaker of Elkhorn would win four holes on the back nine to beat the No. 2 seed Coltrane Mittag of Ashland, 2 and 1. 
Benge got the ball rolling quickly, winning four holes on the front nine, but Doniphan's Ethan Smith came back, rallying to cut the deficit to 1-down on No. 16. Benge however would hold on, winning the only match that took went to the 18th hole, 1 up.
The Semifinals featured a back-and-forth battle between No. 1 seed Bryson and No. 20 seed Feddersen. The match was tied three separate times, including after Feddersen made back-t0-back birdies to win Nos. 15 and 16. However, Bryson answered with a birdie on the No. 17 to take the lead back, and then closed out the match with a par on the 18th hole to win, 1 up.
Benge took on Whittaker in the afternoon, and it was a battle of pars through the first nine. A birdie on No. 6 for Whittaker would tie the match, however that would be the last hole he would win, as Benge would win, 3 and 2, to advance to the championship match.
Bryson and Benge start at 7:30 a.m. on Thursday, and the updated match play brackets are available under the Scoring tab of the championship websites below.
Nebraska Girls' Match Play Championship
Nebraska Junior Match Play Championship
About the NGA
The Nebraska Golf Association, founded in 1966, is comprised of all members of public and private clubs and/or municipal or regional golf associations which utilize an approved handicap service recognized by the USGA and provided by the NGA. Our mission is to uphold and promote the game of golf and its values to all golfers in Nebraska. Among the duties of the Association include governance of member clubs and service as their handicapping and course rating authority, conduct of state golf championships, local USGA qualifying & other notable competitions, promotion of junior golf, presentation of worthwhile educational programs and support of allied golf organizations in Nebraska. The Nebraska Golf Association is an Allied Golf Association of the USGA and carries out core services including Handicap Administration and Oversight, Course Rating, Rules of Golf and Rules of Amateur Status, Tournaments and USGA Championship Qualifiers and USGA Initiatives and Community Programs.