Nebraska Falls Short at Kansas-Nebraska Junior Cup
Singles Matches Conducted Thursday at Prairie Dunes Country Club in Kansas
HUTCHINSON, KAN. (August 6, 2020) – The 35th Kansas-Nebraska Junior Cup ended in a 10.5-5.5 victory for Kansas on Thursday at Prairie Dunes Country Club in Hutchinson, Kansas.
Kansas pulled away in Singles matches on Thursday to win the Cup back after a Nebraska retention last year at Omaha Country Club.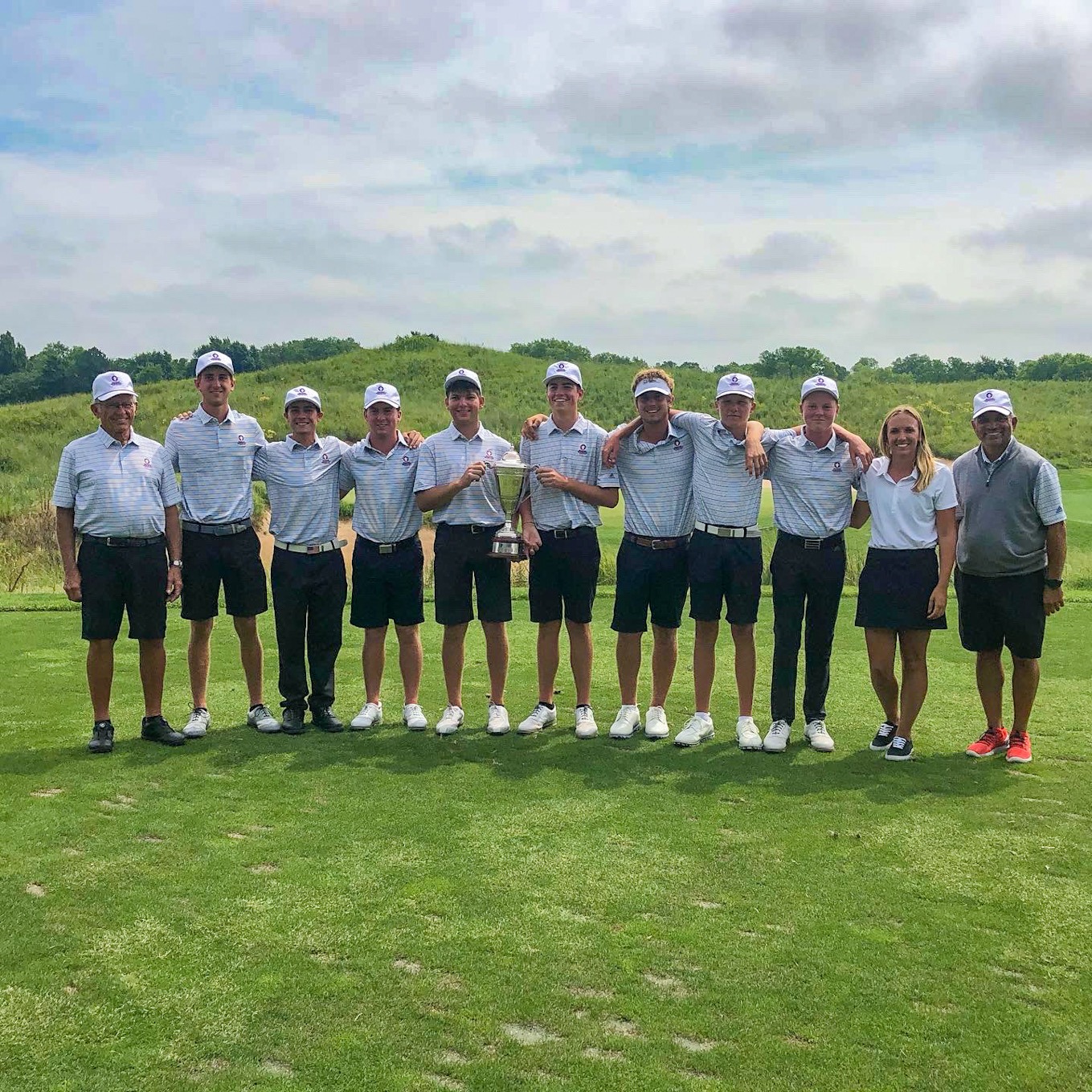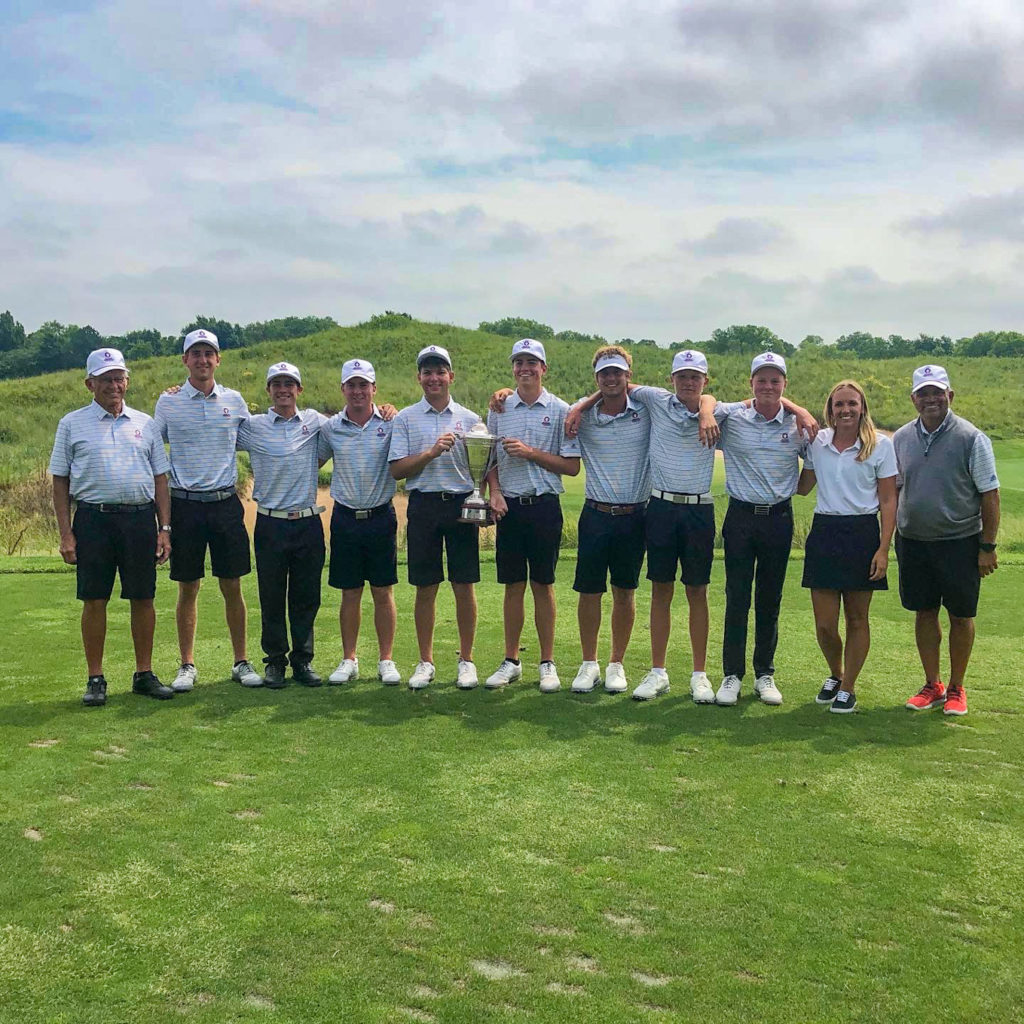 Kansas entered the day leading 5.5-2.5 after a strong showing in Foursomes matches on Wednesday. Three of the four Foursomes matches were claimed by Kansas, and the teams split the Four-Ball session in the afternoon.
Kansas needed just three points in Singles matches to clinch the Cup. The matches were back and forth early, with several close battles. However, Kansas pulled away late, winning five of the eight matches.
The highlight of the day came from York's Reed Malleck on the 187-yard par-3 15th. Leading 2 up, Malleck pulled a seven iron and recorded his third career hole-in-one. The soon-to-be-Husker landed the ball just short of the hole, allowing it to take a few bounces and roll into the cup to win the hole. Malleck would go on to close out the match against Overland Park's Ian McCrary, 4 and 2, on the next hole. 
Nebraska earned Singles matches wins from Lincoln's Jason Kolbas and Norfolk's Jake Kluver as well. Kolbas went 5 up through 12 holes and managed to hold off a late run from Wellington's Blake Saffell to win his match 2 and 1. Kluver was dominant on the front nine, going 4 up through seven holes and playing the front nine in 4-under. After a par on the 15th, Kluver won 4 and 3 against Louisburg's Calvin Dillon. 
Kansas would go on to win the remaining five matches. Wellington's Lucas Scheufler put together a strong performance on the front nine to win 6 and 5 against Omaha's Josh Kramer. Cooper Schultz of Wichita and Charlie Zielinski of Omaha battled in a back-and-forth match, however, bogeys from Zielinski on the final two holes allowed Schultz to pull out a 3-and-2 victory. Overland Park's Davis Cooper picked up a 4-and-3 win against Elkhorn's Luke Gutschewski, which was the clinching point for Kansas. Rounding out the afternoon were wins from Olathe's Caleb Kimmel, 4 and 3 over Grand Island's Marcus Eriksen and Prairie Village's Will Harding, 2 and 1, against Omaha's Christopher Atkinson.
The Kansas victory stops a two-year stretch of Nebraska's possession of the cup. Previously, Kansas had won seven straight years from 2009 to 2017. Kansas now leads the overall series, 20-15.
Additional information, including full results, is available at the Junior Cup website below.
About the NGA
The Nebraska Golf Association, founded in 1966, is comprised of all members of public and private clubs and/or municipal or regional golf associations which utilize an approved handicap service recognized by the USGA and provided by the NGA. Our mission is to uphold and promote the game of golf and its values to all golfers in Nebraska. Among the duties of the Association include governance of member clubs and service as their handicapping and course rating authority, conduct of state golf championships, local USGA qualifying & other notable competitions, promotion of junior golf, presentation of worthwhile educational programs and support of allied golf organizations in Nebraska. The Nebraska Golf Association is an Allied Golf Association of the USGA and carries out core services including Handicap Administration and Oversight, Course Rating, Rules of Golf and Rules of Amateur Status, Tournaments and USGA Championship Qualifiers and USGA Initiatives and Community Programs.