Team Nebraska Announced for Kansas-Nebraska Junior Cup Matches
Matches to be Conducted August 4-6 at Prairie Dunes Country Club in Kansas
OMAHA (July 31, 2020) – Team Nebraska is set ahead of the 35th Kansas-Nebraska Junior Cup. The team will make the trek to Prairie Dunes Country Club in Kansas with the goal of keeping the cup in Nebraska after retaining the trophy last year at Omaha Country Club.
The event annually pits the best juniors from each state in Four-Ball, Foursome and Singles matches. Last year, Nebraska kept the Cup for a second straight year, retaining after the matches finished in a 8-8 tie. Kansas still leads the series 19-15.
Captain Craig Badura's team is loaded with talent this year, with four veteran players on the roster.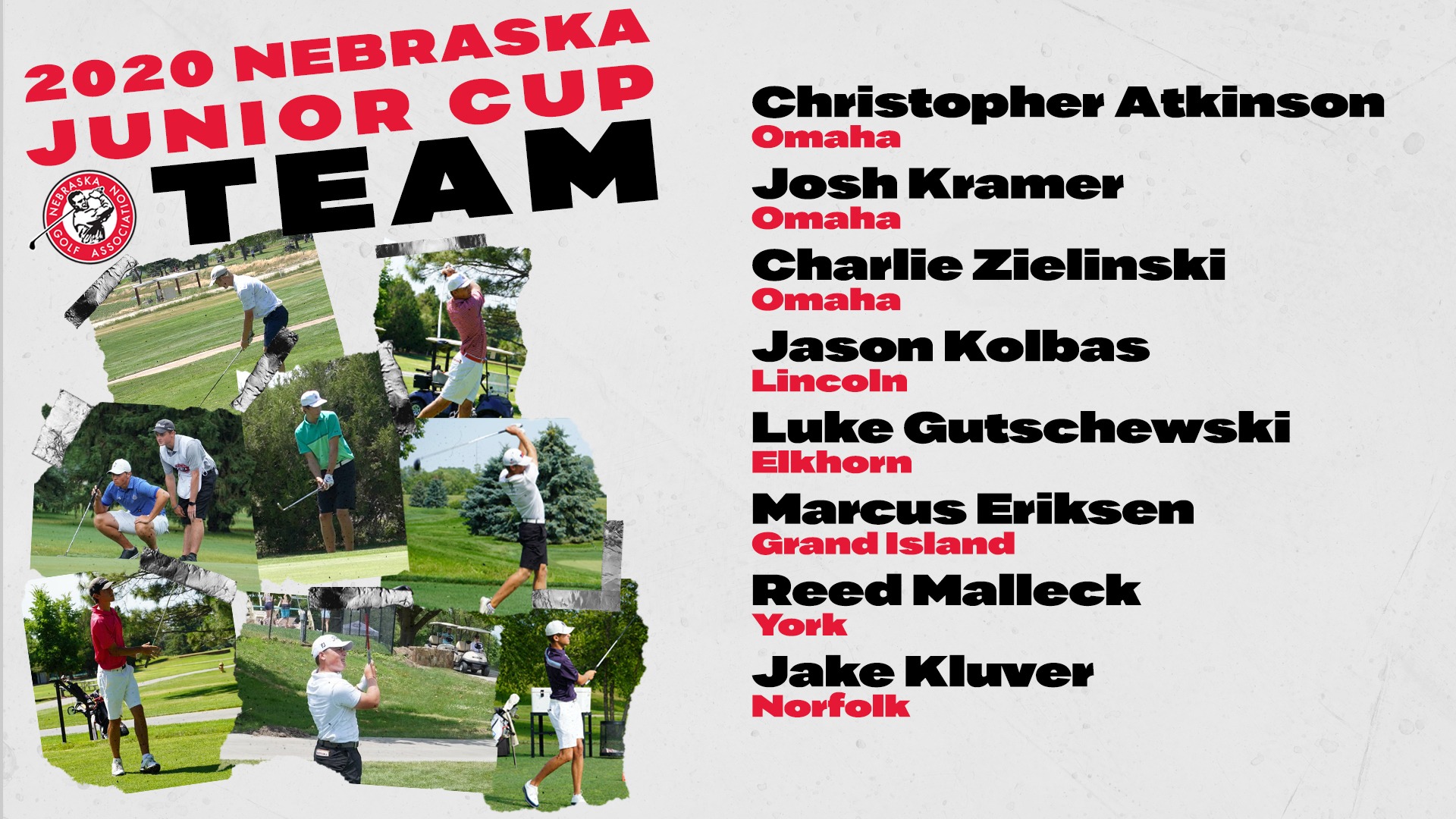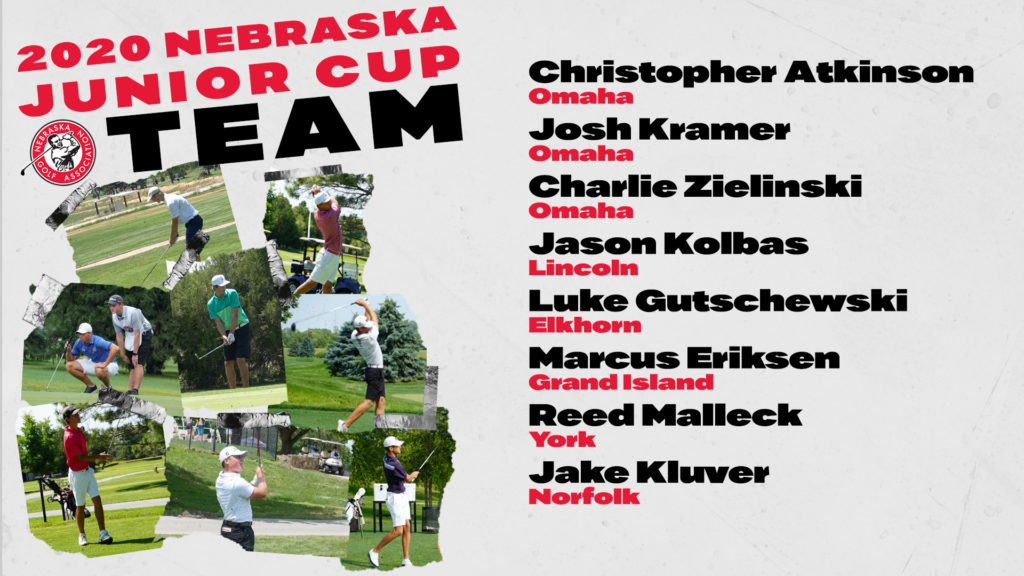 The first of those is Elkhorn's Luke Gutschewski. Gutschewski has had a strong performance so far, winning the Nebraska Junior Amateur Championship at Scotts Bluff Country Club last month. Last year, Gutschewski helped Nebraska to 1.5 points in the matches. He tied his Foursomes match with partner Charlie Zielinski of Omaha, and went on to win his Singles match 4 and 3 against Gentry Scheve of Kansas.
Josh Kramer of Omaha is the second player in the NGA's junior point standings this year. Kramer has also had a big year so far. He made an appearance in the Final of the Nebraska Junior Match Play Championship at Oakland Golf Club, facing eventual champion and now teammate Reed Malleck of York. This will be Kramer's first Junior Cup appearance.
Zielinski also played his way into an automatic spot on the team, coming in third in the point standings. He had a strong cup performance last year as well. In addition to his Foursomes win with Gutschewski, Zielinski also won his Singles match. His 5-and-4 victory over Tradgon McCrae of Kansas was the largest margin of victory in Singles matches in last year's cup.
Christopher Atkinson of Omaha is another rookie that will be joining the ranks of team Nebraska this year, but his summer resume so far has been impressive. He made it to the Round of 16 in the Nebraska Junior Match Play Championship. He turned that around the following week with another Round of 16 appearance in the Nebraska Match Play Championship. He also made a run at the Nebraska Junior Amateur, and was in the final pairing in the final round after a 71 (-1) second round. He went on to finish sixth in the championship.
Malleck will tee it up in his second cup this year after being team Nebraska's leading scorer last year. He faced one of Kansas' best players, Sion Audrain in Singles matches, and managed to tie the match to score 2.5 points for Nebraska. He's has a great 2020 campaign, winning his first NGA title, the Nebraska Junior Match Play Championship. Malleck followed that up with a T-3 finish at the Nebraska Junior Amateur earlier this month.
The final automatic pick for Nebraska is Jason Kolbas of Lincoln. Kolbas didn't play last year due to injury, but was a member of the 2018 Nebraska squad that won at Lawrence Country Club. Kolbas put a point on the board for Nebraska in those matches when he won his Singles match.
The captains picks for the 2020 team were selected on Thursday, with Grand Island's Marcus Eriksen and Norfolk's Jake Kluver taking the final spots on the team. Eriksen had a strong performance at the 2020 Boys All-State Invitational at The Club at Indian Creek on Thursday, firing a round of 69 (-3) to win the event. Kluver was a semifinalist at the Nebraska Junior Match Play and also made the bracket at the Nebraska Match Play Championship. Kluver was on last year's team, and sank the putt on the 18th hole that retained the Cup for Nebraska. This is the first selection for Eriksen, who is a Grand Island Northwest graduate.
The Junior Cup matches kickoff this year with a practice round on August 4, followed by Foursomes and Four-Ball matches on August 5, and finishing with Singles matches on August 6.
Additional information is available at the Junior Cup website below.
About the NGA
The Nebraska Golf Association, founded in 1966, is comprised of all members of public and private clubs and/or municipal or regional golf associations which utilize an approved handicap service recognized by the USGA and provided by the NGA. Our mission is to uphold and promote the game of golf and its values to all golfers in Nebraska. Among the duties of the Association include governance of member clubs and service as their handicapping and course rating authority, conduct of state golf championships, local USGA qualifying & other notable competitions, promotion of junior golf, presentation of worthwhile educational programs and support of allied golf organizations in Nebraska. The Nebraska Golf Association is an Allied Golf Association of the USGA and carries out core services including Handicap Administration and Oversight, Course Rating, Rules of Golf and Rules of Amateur Status, Tournaments and USGA Championship Qualifiers and USGA Initiatives and Community Programs.