The Winners and Back to the Kuchar are FJS Team Co-Champions
FJS Post-Series Awards Announced
OMAHA (October 19, 2020) - The Nebraska Golf Association's 9th Fall Junior Series was completed on Saturday and post-series awards recognizing the Team Champions of the FJS, as well as the FJS All-Star Team and Captain have been awarded.
For the first time, two teams tied for the top spot in the FJS Team Point Standings. The Winners and Back to the Kuchar each finished with 1,000 points and have been named 2020 Fall Junior Series Team Co-Champions. The Winners, featuring Elkhorn's Luke Gutschewski, Lincoln's Jason Kolbas and Omaha's Christopher Atkinson won the final two events of the FJS. Back to the Kuchar, featuring Omaha's Tommy Kelley, Lincoln's' Thomas Bryson and Elkhorn's Trevor Gutschewski, finished runner-up in the first two events and tied for third in the final event.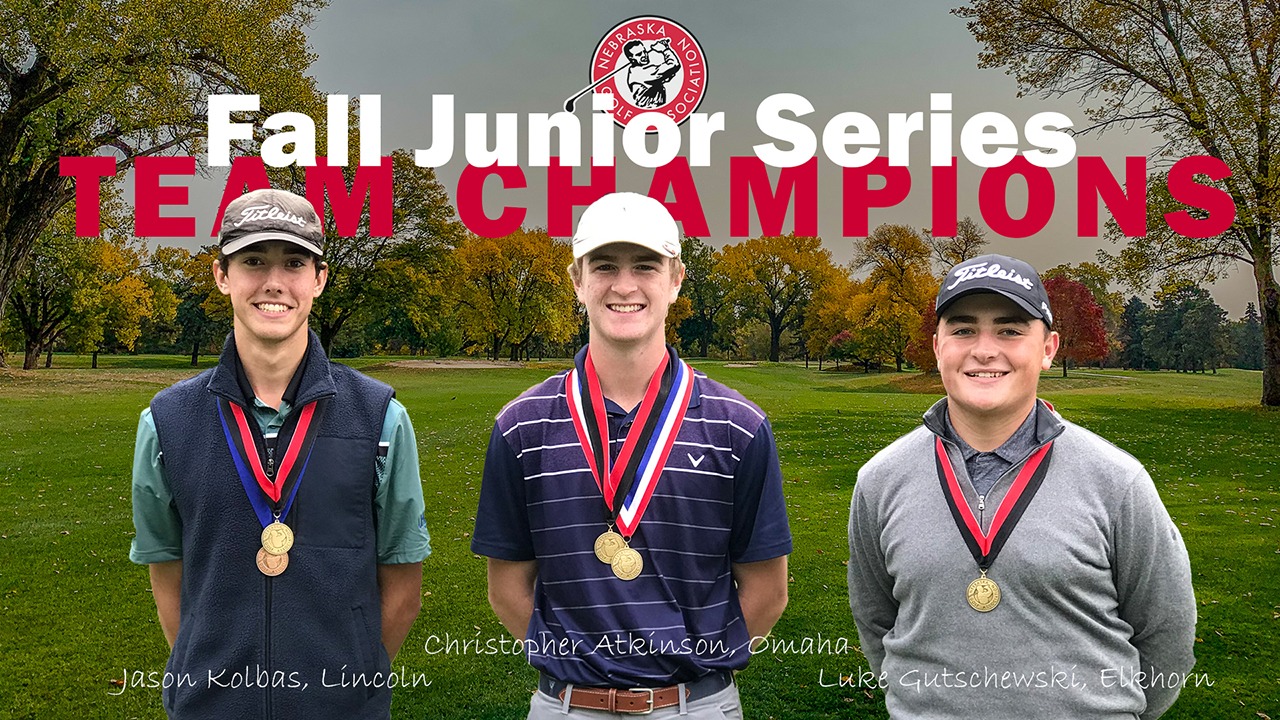 Atkinson, a senior at Gretna High School, led The Winners to a team title at the Pioneer at Norfolk Country Club, capturing the individual title as well with a round of 71 (-1). Luke Gutschewski, a senior at Mount Michael, tied for second in that event, and then won the final event, the Frontier at York Country Club, with a round of 69 (-1) to lead his team to another victory. Kolbas, a senior at Lincoln Pius X, finished tied for seventh at the Pioneer, and was runner-up to Gutschewski at the Frontier.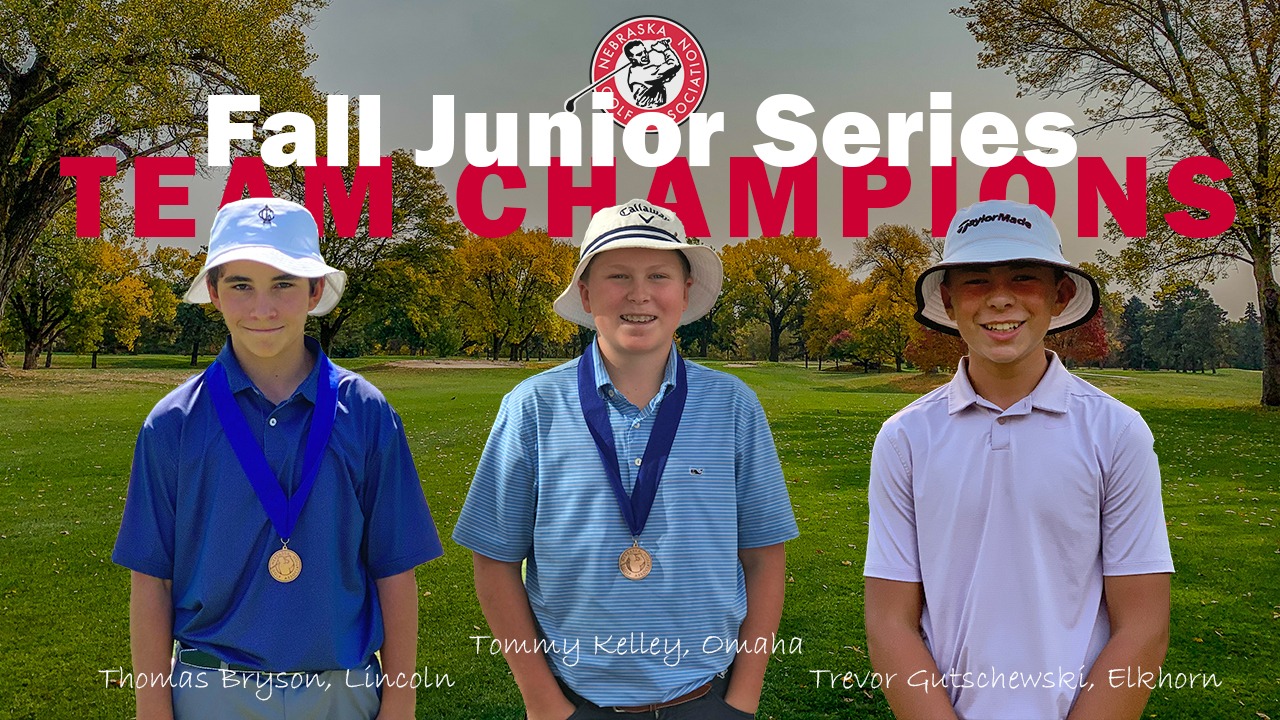 Kelley led Back to the Kuchar with top 10 finishes at the Pioneer and Explorer competitions, while Bryson tied for fifth in the first event, the Explorer at Oakland Golf Club. All three players are still in middle school, with Bryson and Trevor Gutschewski in eighth grade, while Kelley is just a seventh grader.
The individual FJS All-Star Team was also announced, and is headlined by Luke Gutschewski, the Team Captain. Gutschewski is on the team for a second-straight year, and joining him on the team is Papillion's Noah Miller, Omaha's Richard Orth III, North Platte's Kasch Morrison and Kearney's Cole Feddersen. Miller is a senior at Omaha Gross Catholic, Orth is a senior at Omaha Burke, Morrison is a senior at North Platte High School and Feddersen is a junior at Kearney High School.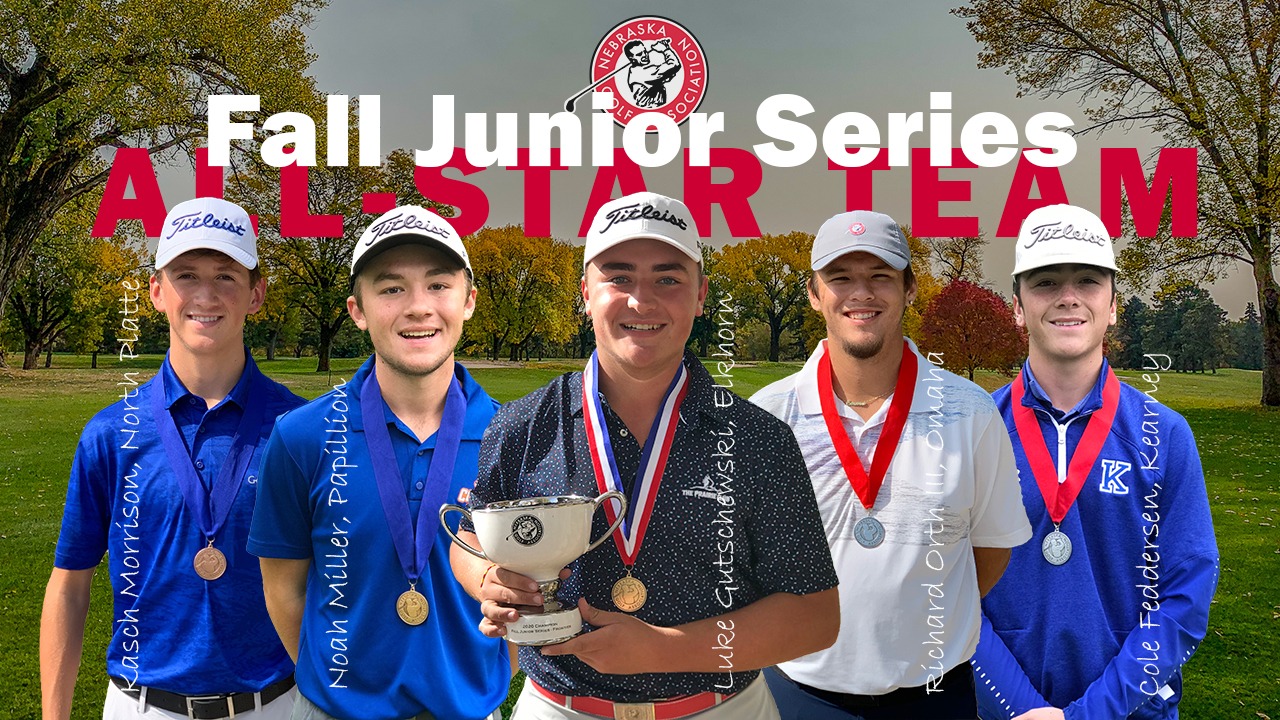 2020 FJS Team Co-Champions
The Winners - Luke Gutschewski of Elkhorn, Jason Kolbas of Lincoln and Christopher Atkinson of Elkhorn
Back to the Kuchar - Tommy Kelley of Omaha, Thomas Bryson of Lincoln and Trevor Gutschewski of Elkhorn
2020 FJS All-Star Team
Luke Gutschewski, Elkhorn (Captain)
Noah Miller, Papillion
Richard Orth III, Omaha
Kasch Morrison, North Platte
Cole Feddersen, Kearney
The FJS All-Star Team and Team Champions will be announced on Monday. Full results and more are available at the FJS website below.
About the NGA
The Nebraska Golf Association, founded in 1966, is comprised of all members of public and private clubs and/or municipal or regional golf associations which utilize an approved handicap service recognized by the USGA and provided by the NGA. Our mission is to uphold and promote the game of golf and its values to all golfers in Nebraska. Among the duties of the Association include governance of member clubs and service as their handicapping and course rating authority, conduct of state golf championships, local USGA qualifying & other notable competitions, promotion of junior golf, presentation of worthwhile educational programs and support of allied golf organizations in Nebraska. The Nebraska Golf Association is an Allied Golf Association of the USGA and carries out core services including Handicap Administration and Oversight, Course Rating, Rules of Golf and Rules of Amateur Status, Tournaments and USGA Championship Qualifiers and USGA Initiatives and Community Programs.